Female celebrities discuss their childhood with a view toward seeing how they became the women they are today. Designers Betsey Johnson, Cynthia Rowley, Model Shalom Harlow and more.
Title: Producer
Secondary Title: Director, Writer
Channel: We
---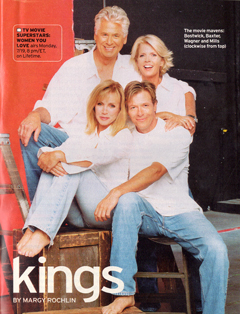 Starring Jacklyn Smith, Judith Light, Cheryl Ladd, Delta Burke, and more! Lifetime airs an exceedingly peculiar yet insightful documentary that shows how the telepic formula has worked like a charm -- granted, a cheap, paste-on-jewelry charm -- for decades. TV Movie Superstars: Women You Love interviews stalwarts such as Meredith Baxter, Cheryl Ladd, Donna Mills, Jaclyn Smith, Connie Sellecca, and Judith Light as they watch clips from some of their social-realist epics.
Title: Supervising Producer
Secondary Title: Director, Writer
Channel: Lifetime